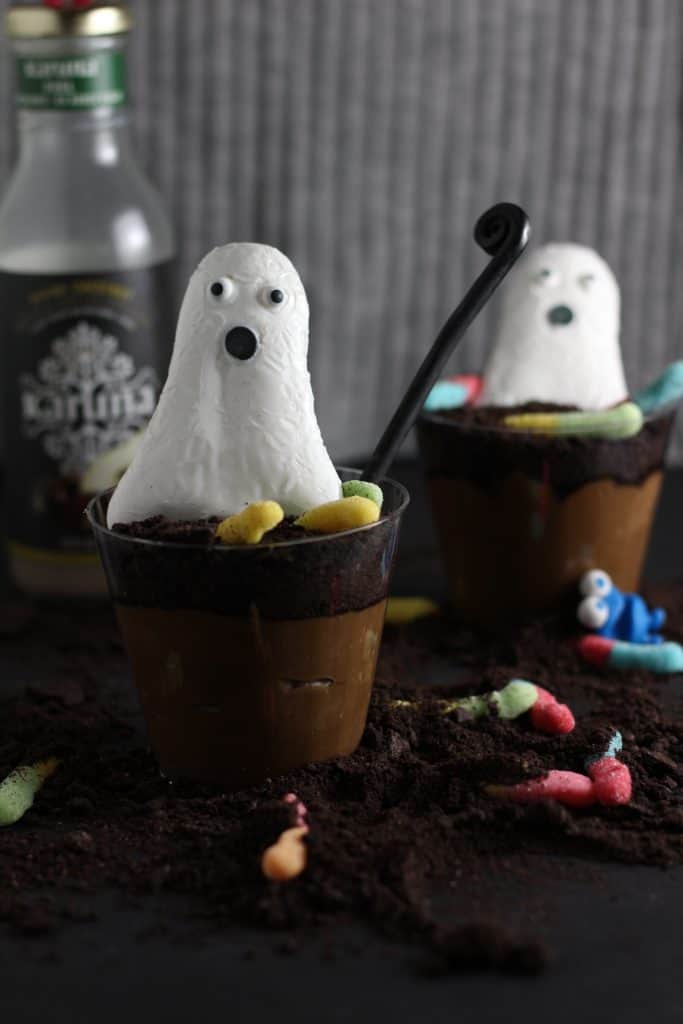 As you can tell I'm in the Halloween spirit being that this my second Halloween recipe of the week; Chestnut Chocolate Pudding Cups. As I mentioned in my Sweet Hibiscus Strawberry Juice recipe, Halloween for me is not a time to load up on unnecessarily refined white sugar (yuck). Halloween can be healthy, fun, and yes still sweet! To help bring this idea to life, I partnered with Karviva using their Divine Chestnut Drink. I also used a creamy avocado as the based of the pudding and coconut nectar for a natural liquid sweetener.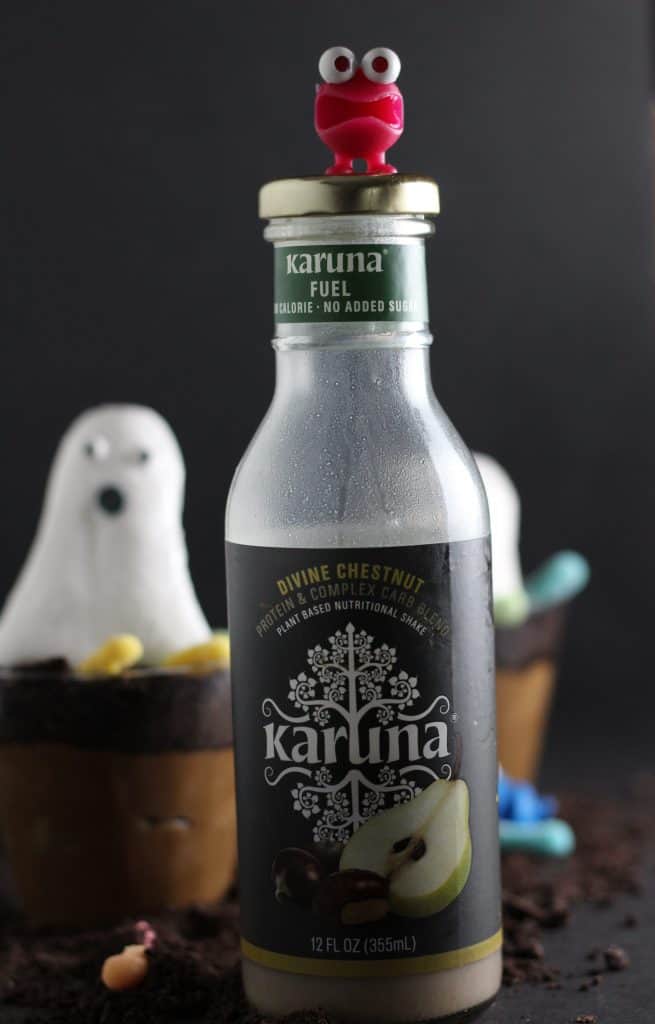 Karviva's Divine Chestnut vegan drink, is something I regularly drink every morning. Now that it's getting cooler, I like to warm it up adding a dash of cinnamon and drinking it as a coffee replacement. The aroma and taste of this drink is so comforting and the chestnuts packs the necessity plant-based protein, I need to fuel my evening leg workouts. Other health benefits of chestnuts include:
Chestnuts are high in fiber. Fiber is important to any diet because fiber helps stabilize blood sugar and they feed your friendly bacteria in your gut or better known as probiotics.
Chestnut contains copper. One of the many minerals that not talked about needed for the human body and somewhat lacking in the modern world. Having the right amount of copper in your body assist with having strong bones. Chestnuts contain 22% of the recommended daily value of copper needed in our diet.
Source: What Are the Benefits of Roasted Chestnuts?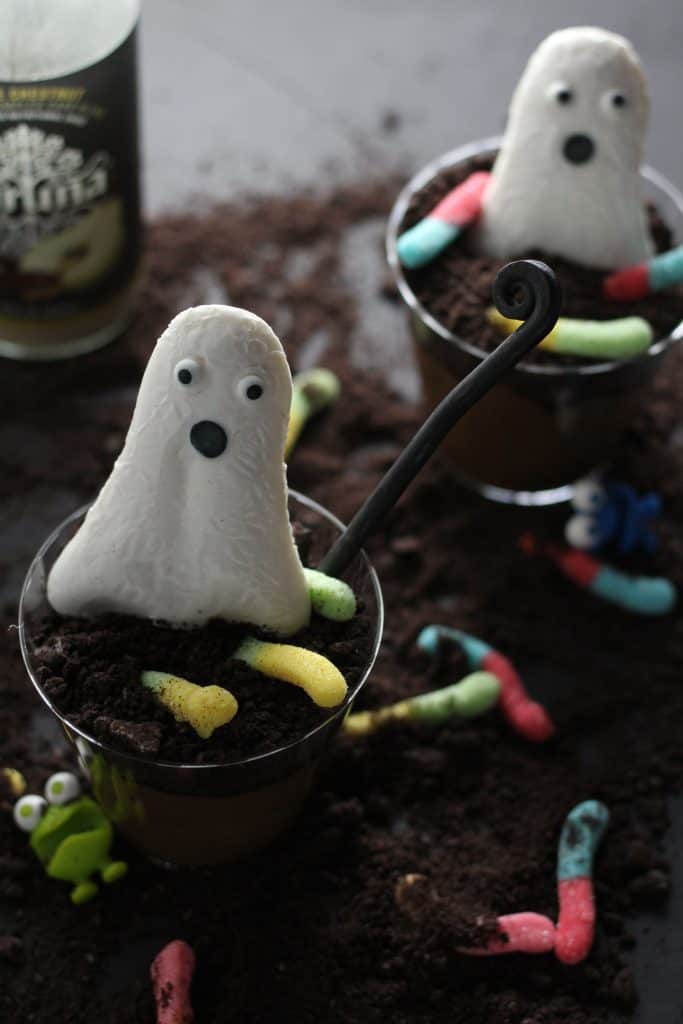 ]
Curve Building Avocado: I have grown to have a quite an addiction over avocados. I eat at least two avocados a day. Avocados alone won't make you gain or lose weight. No one food alone would make you gain or lose weight, but for as curve building vegans, adding it to our already calorie dense diet can have great benefits in filling out our shape. Avocados are have a lot of calories and nutrition yet small in portion.
A healthy Halloween doesn't have to mean a boring Halloween. You can still have fun, be playful, and have sweers without spiking your blood sugar. Enjoy!
IF YOU TRIED THIS RECIPE: Tell me how it turned out for you! Was it a hit or miss? What your favorite Halloween treat? Tell me about it! Leave a comment below, rate it, pin it, and tag a photo #VeganWithCurves on Instagram so I can see it!
---
Appliances used in this recipe:
For more of my recommended cooking tools, visit the resource page at MUST HAVES APPLIANCES IN A VEGAN KITCHEN
LOVE THIS RECIPE? HOVER IMAGE BELOW TO PIN!

Ghostly Chestnut Chocolate Pudding Cups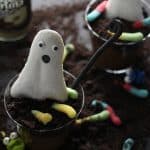 1/4 cup of Karviva's Chestnut Drink
1 ripe avocado
2 tbsp of unsweetened cocoa powder
2 tbsp of carob powder
1/4 cup of raw coconut nectar or any other natural sweetener like maple syrup or two packets of stevia if you like to taste
1 tsp of alcohol free vanilla extract
Place all ingredients into your blender.
Blend until smooth. Should be completely combined and smoove but still thick like a pudding. If too thick, add more of Karviva Chestnut drink. Adjust sweetness and taste to your liking.
Place pudding in a bowl and chill for about 30 minutes in the refrigerator.
Grab pudding cups and get creative! You can add crushed gluten free Oreo cookies if you like or you can eat it just as it is. Enjoy!
*cocoa powder can be kind of bitter which is why I like having carob powder. It has a natural sweetness that cocoa powder doesn't have but if you don't have carob powder on hand just use a 1/4 cup of cocoa powder.
**I like the flavor profile of Karviva's Chestnut drink which is the main theme of the recipe, however if you don't have access to Karviva Chestnut Drink use your favorite plant based milk preferably coconut milk. (Karviva's is expanding to more regions and with new product launch! I will keep you updated on that!)